Over the past number of years I have been very heavily into modifying and building spearguns. Most of my passion is in tinkering and learning how things work in an effort to modify them. Since I was a child this has been a huge part of my life. Between all my custom modifications and tweaks one of my absolute favorite add on any gun is a custom made handle. Just like a set of custom wheels for a car, nothing changes the complete overall aesthetics like a new set of aftermarket wheels and tires. Not only does this modification completely transform the look and feel of your speargun, but it seriously changes the handling and overall performance of nearly every gun you put this on.
Since adding a custom grip, it is incredibly easy to see and feel just how much the recoil of the gun can be channeled properly into your hand and palm and not just a random explosion like many guns seem to do the instant you add more power. Even in stock form a handle modification can make a poorly shooting uncomfortable gun into a tack driver.
To help clear some confusion on this matter, I decided to make a thread solely on this issue to help others out there wanting to modify their guns. A few years ago I made a thread about this magical material and am hoping it might pick back up.
First things first...youll need to buy yourself some thermo plastic material. This stuff is commonly referred as Polymorph, or Thermoplastic. You want to buy a kit that not only comes with the plastic, but also the coloring pellets (not powder) as well. I have used this stuff for many many years and only used it in its raw white stock form, I would primer and paint the plastic and call it a day. While that works, I think the colors you can add is a much much better option. I bought this from amazon and has it at my house in two days. I could probably do 3-4 guns with this and still have some left over. This kit cost me 18 dollars...
This particular gun im fixing today is an 115 Omer Excalibur that was modified into a roller gun loong time ago, but also had a new updated vecta 2 trigger mech from rob allen inside of it. It is without question one of my favorite roller guns Ive built. I had to remove the old stuff from the handle that started looking pretty bad after about 2 years of moderate use.
This what the stock handle looks like.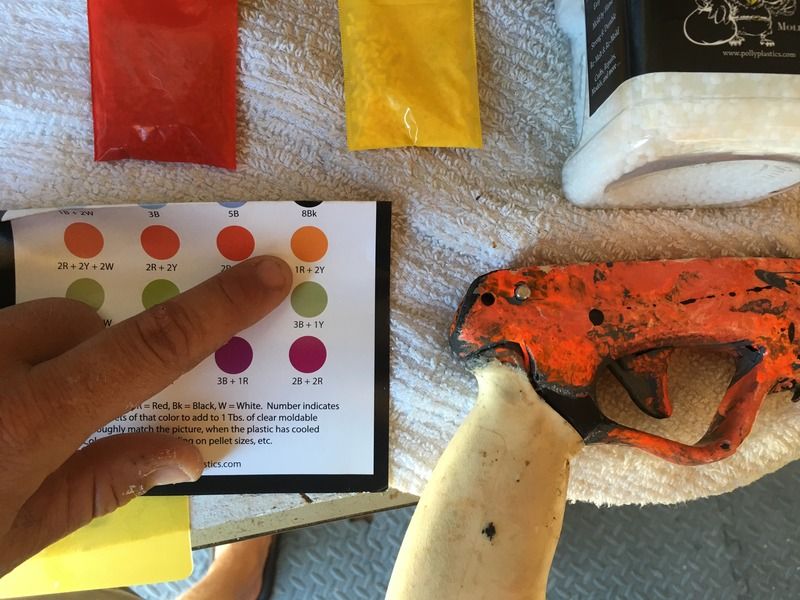 Since every gun is different, you'll have to asses what you have to help figure out what it is you actually are going to do. Under this white handle is this frame. Which is typical of most rubber grip handles.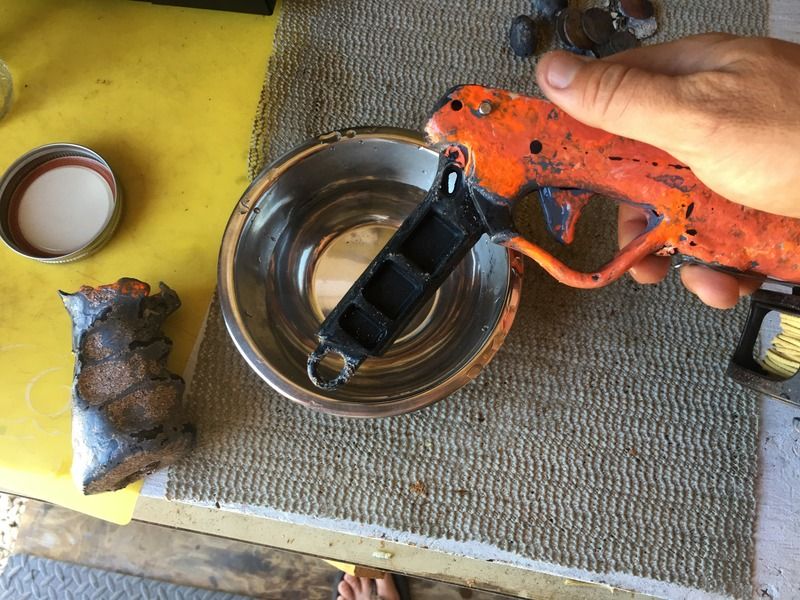 While I could simply mold the polymorph to that handle and it be incredibly sturdy, it would actually end up causing more hassle then its worth. This material is pretty dense, meaning if you add too much, it will overweight your gun and it will sink like a rock. So you have to start this project with the idea that you want to use the least amount of material as possible. Less is more here....
It is very important that when you cover your handle, that you add material completely around the handle. You want the plastic to mold over itself and wrap the handle like a rubber glove.
I was working in my shed at my jet ski rental and I have no stove or way to bring a pan and heat it up over an element so I used my electric kettle that I make my instant coffee in. All you need is hot water. You can microwave it, you can use you kettle, or boil water on the stove.
This kit comes with a color chart to make exactly the colors they show, but its really no different then mixing paint. So I just guessed it and it ended up being nearly identical to what I was looking for.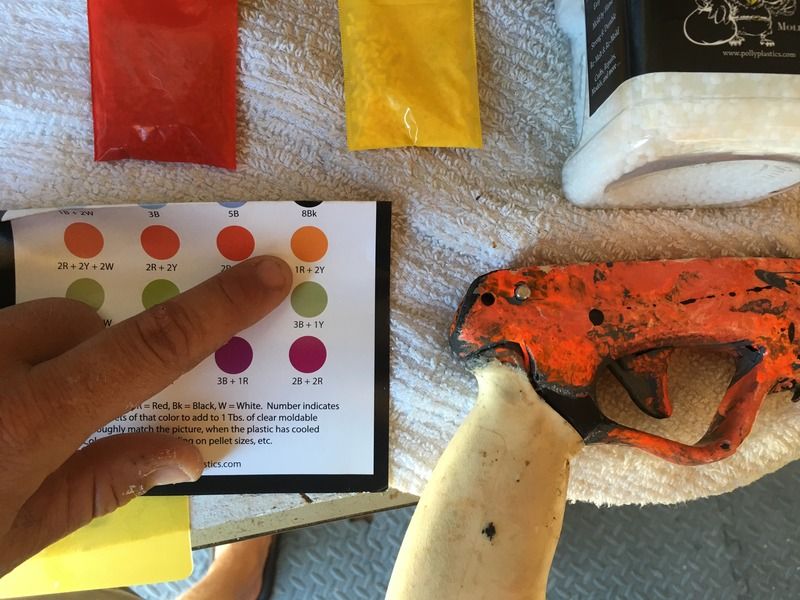 According to the recipe you need to add x amount of pellets to 1 oz of material....since I didn't invent odd numbers and Im not trying to take my shoes off to count that high, i just laid a pile out and figured I could add more if needed.
First all you do is add the plain pellets to either a glass or metal bowl and add the hot water. It takes about 20 seconds for the plastic to change from a white color, to completely clear. Once its clear, it literally moves around like playdoh. Then you want to add your colors in the center of the pile of plastic. You want to fold the plastic over and over and over again once you add the color. After about 20 seconds you'll feel it get harder, just add it back to the water and wait 10 more seconds and keep going till its fully mixed. Keep adding heat as needed.
Once its done, you will want to flatten it out so that you can wrap it around the handle of your gun. Once its fully wrapped, dip the handle of the gun back into the water. This might be cumbersome depending on where you are doing this at, like the kitchen or the garage. So be sure to make space for that swinging gun. I did this on my 140 RA and managed to knock a wine bottle off a nearby table...so be careful, or the old lady might not let you do speargun projects in the house any more. Id hate to hear about anyone having to kick their spouses out because of something so silly, make sure you take it easy.
You can just pour the hot water over the handle at this point to soften the material again. You want to fully blend the layers and the edges together and make sure they are solid, so that the polymorph doesn't come off. You can see in the video below just what I mean. Also, make sure you hold you gun up at eye level and pretend you are the in thr prone shooing position and make sure the finger molds flow properly. Sometimes you'll need to prop up the gun on the counter, or you can lay on the floor.
Make sure its completely pressed around all crevices and nooks.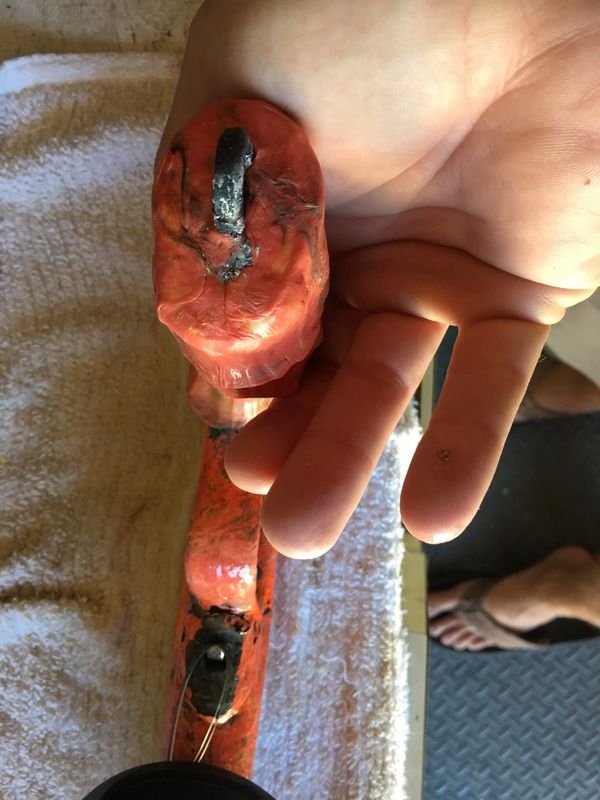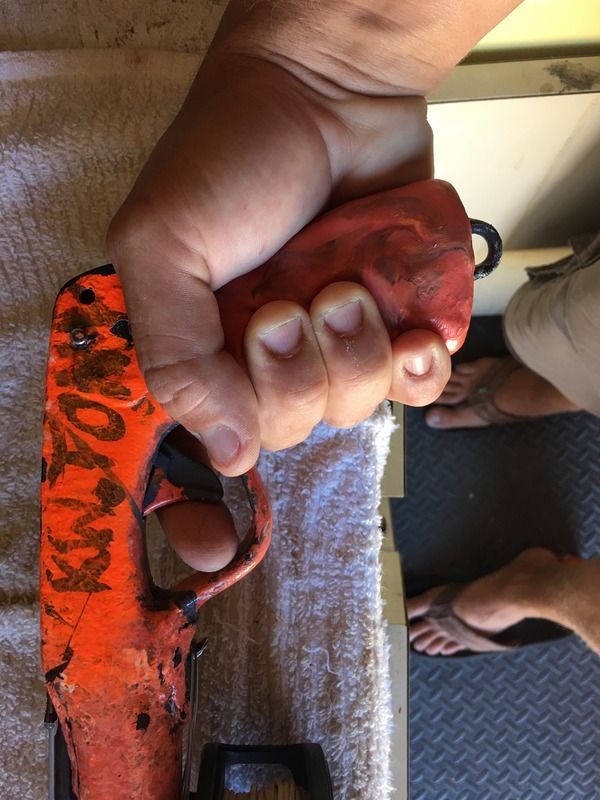 In this photo I am showing the grip without a glove on. Since you should absolutely dive with some sort of protection, I would suggest putting your glove on when molding your handle. If its neoprene, make sure its wet when you are doing the initial molding. Once you see just how big your finger spacing needs to be you can kind of mold the groves with a bare finger. I wear thin plastic gloves on my shooting hand, as shown in the video. Remember its just like playdoh, you just have to add hot water ever minuet or so. Super easy.
Once its cooled off you are done and can use it immediately
http://youtu.be/dxvjWnUoSqI
Thanks for reading...questions, comments, concerns...feel free to ask, Ill do my best to explain with as many photos as possible.