Once in a blue moon, you do everything you possibly can to prepare for a trip on the water and it turns out exactly as you wanted. This Wednesday was one of those perfect days. The day actually started on tuesday, where a new dive buddy and I prepped everything we needed to pretty much turn key to be IN the water at sunrise.
This was the night before with the moon overhead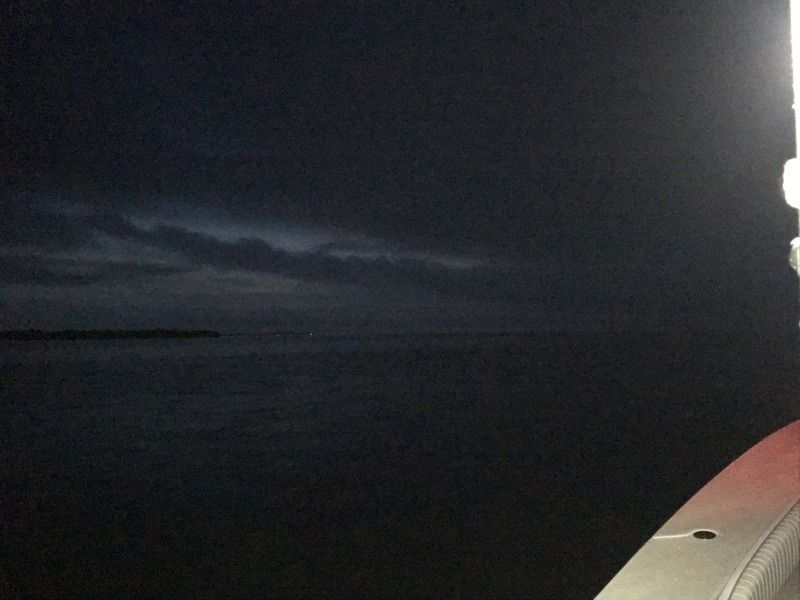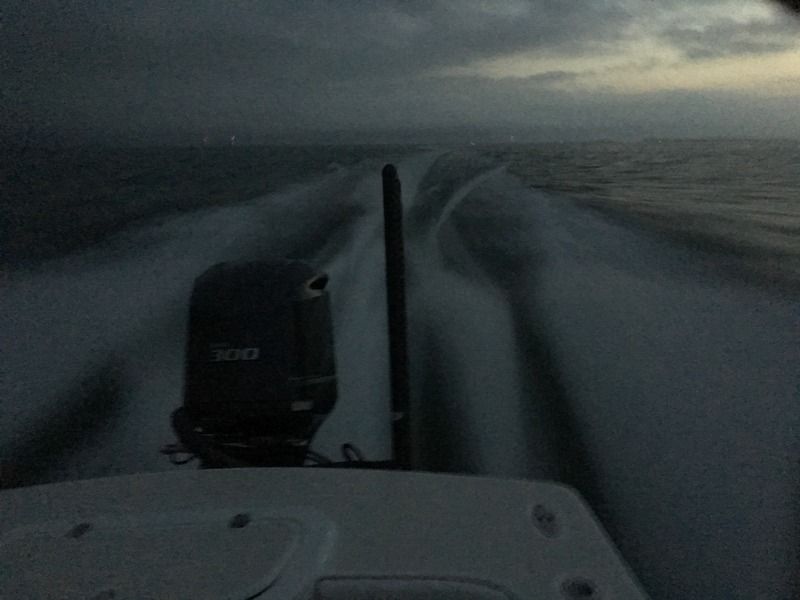 Guns, gear, half a dozen rigged spears, buckets of chum, 5 gallons of pilchards, flashers, and tons of ice. Somewhere between Key Largo and Key West we hopped on the boat at 6 and hauled ass out to one of the spotz. There is something magical about driving a boat in the dark with nothing but the huuuuge full moon helping light way on a morning with nothing more then a 6 inch swell.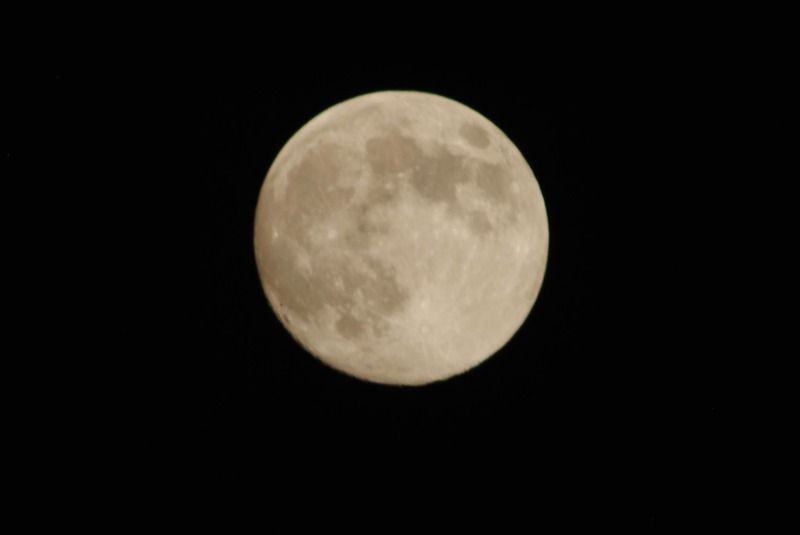 Once we got about 1/4 mile away we both finished getting suited up and set floats and established sides of the boat that we both would work from in an effort to keep lines from tangling. While my friend is a good reef diver, he never dove with a floatline and never had done blue water diving. I tuned up his gun the day before and explained what I knew from my trips in the blue and went over everything as best as I could. Basically, I wanted us to look at each other every 20-30 second since it was just us in the water. He was a trained freediver with Ted Hardy , and I know how important it is to make sure we watched each other closely and always made eye contact after each drop. A 12 foot bull shark can go from 100 feet to 1 foot in an incredible amount of time. It happened to me that day and I managed to get 4 inches of my razor sharp tri cut spears from GR Tarr into the flesh of one before he got the idea that I bite back. My friend absorbed an incredible amount of information and did an freaking fantastic job in the water.
After we figured out how the current was moving we set up for our first official drift, shut the boat off and the driver started throwing chum. I had set my Red Tide flashers to about 50 feet, and clipped off a bonito to a fish stringer and tucked my arm in the loop. After loading the gun tip first into the water, i slipped quietly in and threw a handful of cut bait about 15 feet ahead of me so it had time to sink. The first second we get in the water there are fish pretty much every where. Small blue runners and little jacks zipping around the flasher ball at the end chewing into the chum. About 15 feet below them are 4 sharks circling around grabbing the larger chunks of bait. At this point we both get completely situated and I start slicing and dicing the bonito. A few black fin tuna butter balls come zipping by at about 300mph leaving as quickly as they came. They would hang out for about 45 seconds and then poof...gone. I would dive uninterested in the other direction and it seemed as if they pretty much laughed at me and then did the same thing the other way.
All of a sudden my dive buddy makes a drop to 60 feet and hangs, when he comes up he points to my 6 and I instantly turn around. I cant see what he's seeing but he says there is something just out of sight. Ive already breathed up and do an "all clear okay" while making full eye contact with my dive buddy as we pass each other around 35-40 feet. I level out and start eye balling everything I can, and sure as shit there are two beautiful silhouettes with the rays of the sunrise barely lighting the crystal clear waters behind them. They are about 75 feet away and I can see another 75 feet behind them. I was perfectly calm and more relaxed then I could ever be, even tho my mind my about to explode. I start to time my fin strokes, while holding my gun closely to my body and am equalizing as I go. I didn't move my face for what seemed like an eternity. After x amounts of kicks I barely glance off in front of me and I am about 25 feet away from two wehoos barely finning along. The entire time I am calling the fish in while not even looking...just hoping. Im not diving at them but was aiming to intersect with them at the end...The fish seemed like they were just passing by and just as I think I am in range and, I decide to pass on the shot and let these be....we knew they were there and we were in the right place..
I hit the surface and do a total recall of everything that just happened. Thinking of anything that I could have done differently other then gain a little bit more ground. These fish have been chased around by many divers over the past few weeks and were sometimes skittish from the reports I was getting. We decided to reset the drift and go over the plans and protocol again to make sure we both were on the same page.
A few more drifts later we decide on a different spot or trying another area. We figure we would do at least 2 more drifts and then go from there. All of a sudden, a few silver bullets appeared. Im beside the flasher and try to get ahead of them and make a relaxed drop with the gun pretty much squished against my face with my eyes closed. I count my equalizations, count my fin strokes and land perfectly at 50 feet. Level out with the flasher and Im literally 20 feet away from two wahoo. I stay calm give them the both the middle finger, wave goodbye to the biggest one and then it all kind of went blank. In one perfectly calculated stroke, I extend my arm, lock my elbow and aim..I dont even recall pulling the trigger, im pretty sure my mind caused it to fire..The spear launches out of the gun and drives right through the side of the fish 1 inch behind the gill plate. It felt like an hour but my dive buddy said it was a about half a second shot. I get a perfect mid belly placement and then like a bolt of lightning he takes off. My home made hybrid bungie slips by me at full speed, as soon as i have my hand on the pvc line, i start to slowly add a little bit of pressure while I head to the surface. I was using one of GR Tarr double offset flopper spears and I knew they weren't letting go. I look behind me to see my dive buddy closing in on me and my float zipping through the water. My Rob Allen 12lt foam filled float was shackled to the line and it stuck out of the water like a tombstone. It only did that for about 10 seconds then I grab the float line and start pulling, I can feel him fighting but the bungie is doing all the work and keeping the pressure on him. I keep pulling and swimming to keep the line behind me till I have my hand on the bungie. I can feel the fish is loosing steam, at that point the boat is next to me and I hand the driver my gun. My dive partner puts a final shot into the fish and its all over from there.
We get on the boat and we are both freaking out like a 13 year old girls. Hooting and hollering screaming like I just won the lottery. In a round about way we kind of did. There was no shortage of stoke on the boat. Everyone around us was getting in on the action. I heard about 5 boats making noise too. It was such a good feeling to have it all line up and work out just as planned. 3 seconds later, we stop and say "lets get back in, they are all around us" ...boom, i direct capt to gut the fish and chuck them anywhere and we take back off again.
We both we unable to do a full day out there, but figured if we had one on the boat we would at least try for more and then hit the reef up. So a few more drifts later, we give up and there are way too many boats around, and the fish have disappeared.
We go to one rubble pile inside of Hawks Channel somewhere between Key Largo and Key West. I hop in the water with my pathos 130 and we have about 30 feet of vis I can see the bottom but its a little hazy. As soon as i get in i see something come up and then turn around. It either was a monster parrot fish (godforsaken bastards) or a fat grouper. Funny thing Ive found with these grouper. You can either bomb them at 100mph and 2/3 times they will stay there like a deer in the head lights or they will dart off. Or you can dive calmly like a normal person and 2/3 times you will get a shot off...at least this is my experience. SO its kind of a crap shoot. I pretty much ease up to this one, but then put the afterburners on at the end. BOOM the spear drives right through his head and my Aussie Reel takes over. Fish gets about 30 feet away and lights out. Game over...we do a few more drops and the visibility cuts down to about half with a gnarly white haze at the bottom. We decide to call it, crack open the beers and breath a huuuuge sigh of relief. We did what we went out there to do and had a great time doing it. Make it back to the house and start cleaning the fish.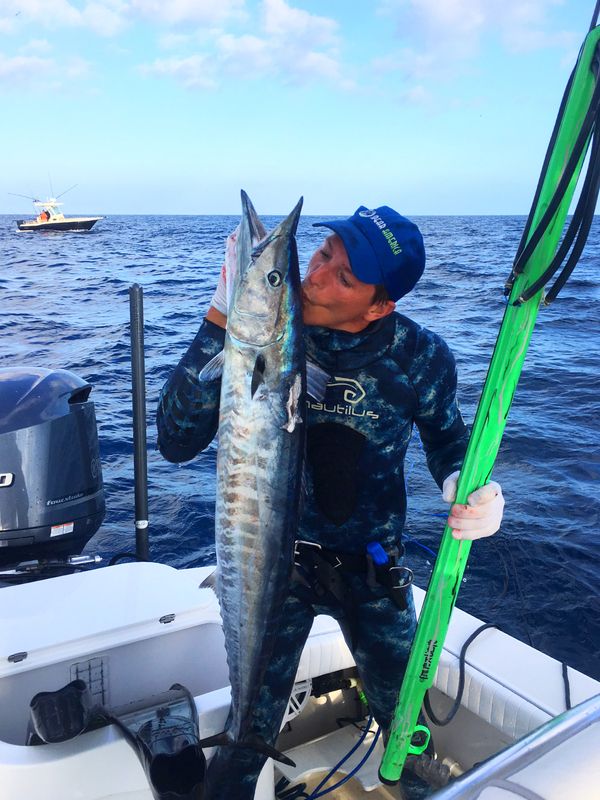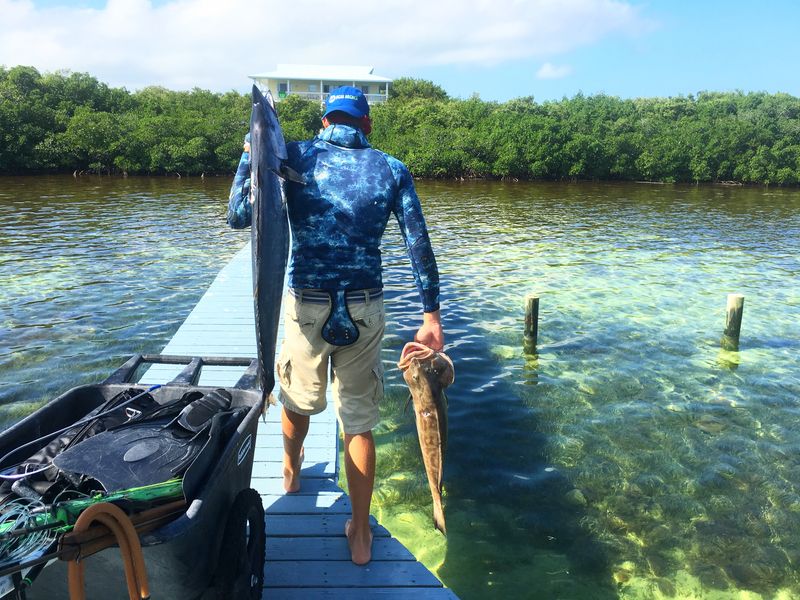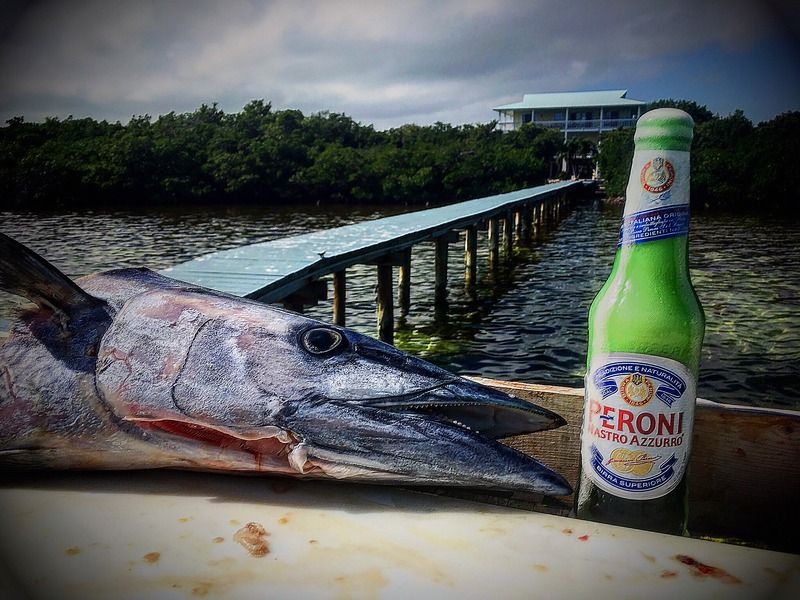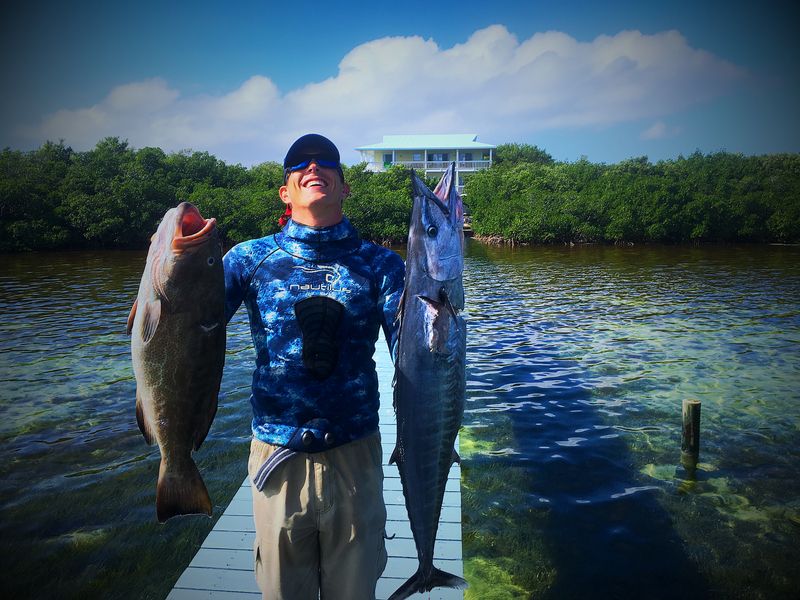 A few big shout outs that I have to give are to Jason Tiller with Impaler Spearguns for making a kick ass gun, to my specific needs and specs on the gun. He made it perfect. 3 14mm small ID bands, reverse trigger mech, handle and mech as far back. Belly on the bottom and make sure she floats perfectly level, and boy does it work beautifully.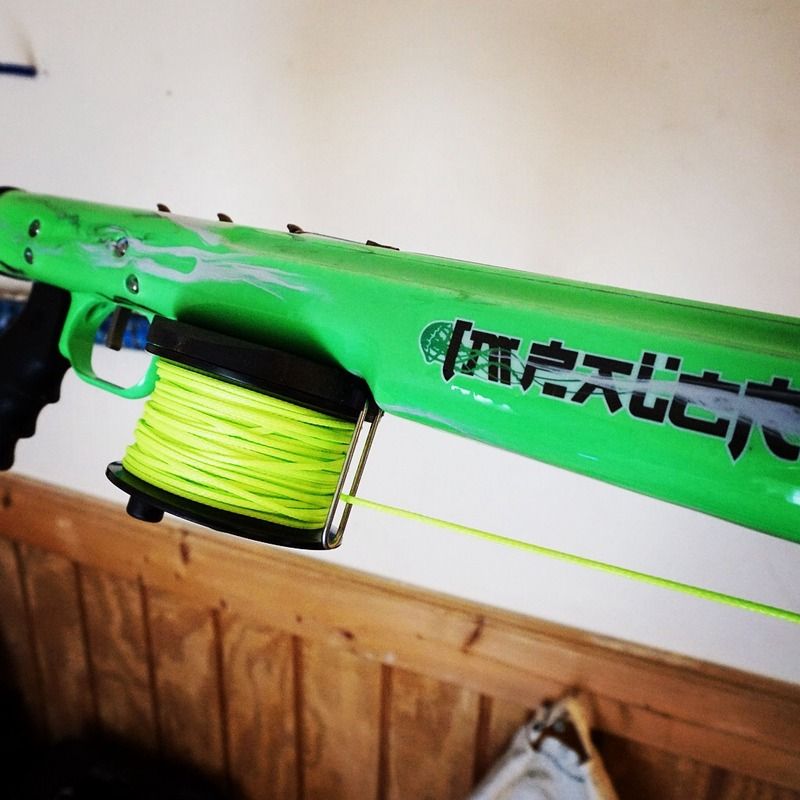 Second would be to Jeff D...aka Tin Man...he and I have had countless conversations over the phone, hundreds of emails and I was incredibly fortunate enough that he made me a super custom trigger mech with a specially hardened sear for this gun, the other other mech like it belongs to Bill Kitto.... The man is a treasure trove of knowledge and he has been one of the nicest persons I've worked with.
Next would of course be Uncle Petros. Without him, Sheesh I would be lost....the man is a freakin powerhouse and always has everything I need. Including my favorite 14mm small ID bands, my meandros articulating wishbones, the wishbone beads and all the fun rigging. Aussie Reels and of course anything Rob Allen I could ever need. One day Ill be able to convince Greg to give us a RA dealer at Formula Freedive down here the Keys, but till then Uncle Petros has everything I need and then some..
Next would be Mr Grtarr. This man is a pure legend, between his hideous croc flip flops and the Clydesdale piss (Budweiser) that he drinks I dont know where to start... I can say that he is one of the friendliest guys around. I buy all my bulk mono and other rigging from him, since I rerig spears after every dive I tend to go through a little bit of mono some months. He brought in some of the best digital scales in the market and has calibration certs available with them too. Not only that, but his spears are some of the best I have ever used. His flashers are great too, but best of all is the amount of information he has about various techniques in the water. I sometimes ask myself in the water "what would Gr do" ...."WWGRD???"
The tips on his BW spears are so freaking sharp I have to keep a protector on it till I get in the water and put it on before I get in the boat. Im afraid to even look at them they are so Razor sharp, i can literally cut the hairs on my skin with each edge. Not even joking...These are strictly blue water spears and will never be shot around rocks. He designed them to take gill plate shots on giant Cubera Snapper and they are insanely pointy...
Also the shark fins are raised so that for enclosed track guns they sit just above the top of the wood, this keeps the bands from rubbing against the top of the gun and simply glide over tip instead. Ill post a pic of those later.
So far its Friday night and I am still on a 'wahoo high' right now. My belly is full of delicious fish, my friends and neighbors are already enjoying some too. There have been a lot of other good things going on with my business we are just about to get crazy busy with the Christmas Rush. Its only 80 degrees here right now with a 10mph wind...as the old saying goes..."Id rather be here, drinking a beer, then freezing my ass in the North"...