Hafa Adai and Aloha all,
just wanted to start this thread on my dive adventures diving O'ahu.
I'll update this thread when I actually have some ability to catch fish.
I apologize in advance if my stories pale in comparison to the other diving legends
on this forum.
so my first report with pics is my adventure diving the south-side of O'ahu. Conditions were PERFECT, winds= light and variable,
sun shining bright, no current, no chop. 40' vis.
We started our swim out and w/in 10 mins, I saw this big thing on the bottom change color. I said to myself "WTF is that?".
Dove down and realized it was a tako (he'e in Hawaiian, gamson in Chamorro) and its the biggest one i've seen so far in my diving.
it saw me coming and hid in a hole but it was game over from there. I proceeded to "tickle the tako" with my shaft and grabbed it as it
shot out of its hole, ink blowing everywhere. I made it to the surface shaking the hell out of it to stun it, i debated whether to bite it between
its eyes to crack the skull and kill it or use my knife. I decided for the latter since I didn't want it to rip off my mask and snorkel. Dispatched it and put it on the
kui (stringer). Missed a couple shots the rest of the dive day but oh well, got meat for dinner.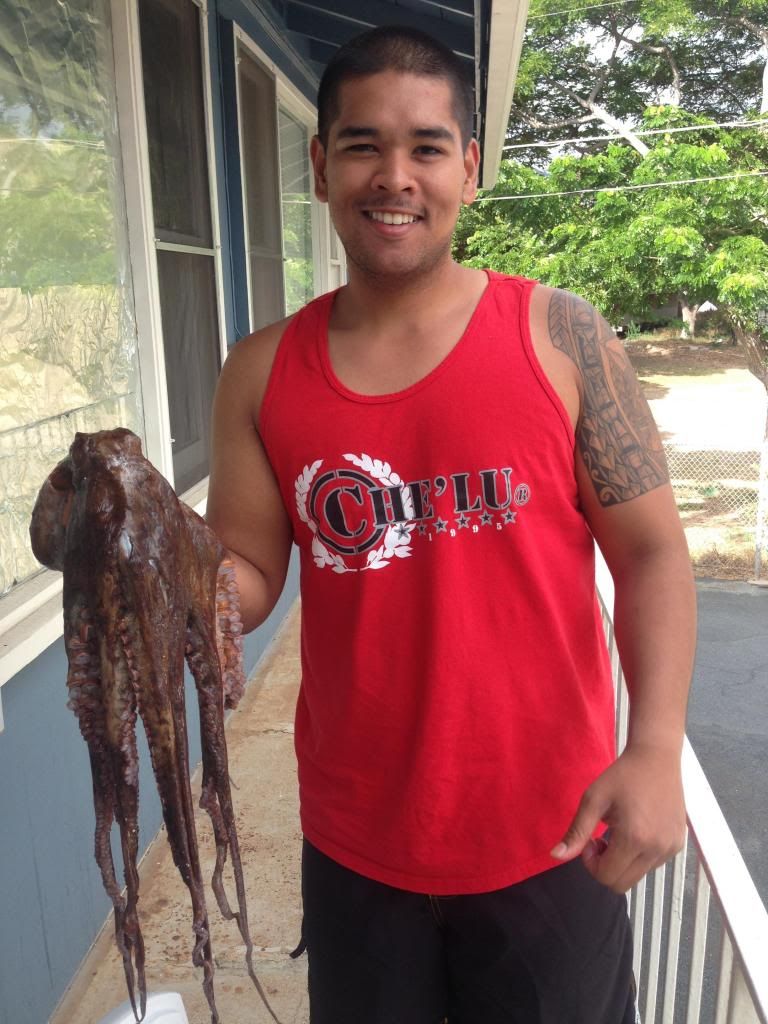 Dove last week with a couple of the boys on the south east side again. Conditions were less than favorable, 10-20mph winds, strong ass current,
strong chop, 15' vis. Anyways, started off slow for me with me missing shots on a couple uhus (parrotfish). I figured I'd check some ledges/shelves for
menpachi but forgot to grab my 3 prong from my float so had my gun when I dropped down. When i landed on the bottom, i gathered myself and looked in the hole and saw
this fat ala'ihi cruising inside. Pointed my roller at it and stoned it. After that managed to catch two tako when i was scouting other grounds. Funny story with the tako, I figured i'd bite it to kill it. I ended up mistiming it and idk what happened but when i bit down, one of the eyeballs popped off in my mouth, the legs grabbed my mask and snorkel.
Got pissed off, grabbed my knife, and brained him. All in all a good day.
Dive safe guys!