Went to Kona, Hawaii with my very pregnant wife for the holidays. The family has been building a gathering place for everyone right on the ocean's edge for about 3 years now and this is the first time we all got to stay there and use it which was awesome.
https://youtu.be/ScCcMG64RBM
Some highlights of the trip (pics/vid below) were the big Mahi cow (and cooking/eating it with the fam!), being circled by 6 tiger sharks (one of them was ~14'), diving with one of 8 monk seals known on all the islands, being "attacked" by an aggressive silk shark during the Mahi fight, tagging said shark, spearfishing for Roi (invasive peacock grouper), scuba diving with HUGE lobsters, free diving deep in warm water right off the back porch every day, playing with octopus at an octopus farm, rope swing into the ocean, spotting then swimming with a big flounder, making gnocci with the family, getting a great shot of my preggo wife on the beach (she wanted to do a 50s style preg pic) and going on a helicopter tour around the island with my little brother who got his pilots license not too long ago. P.s. The owner of Viagra has a property on the island with a huge waterslide winding into the tip of a pool in the shape of a penis... which is freaking hilarious (pic below).
I would highly recommend going on a charter with Rob White of Blue Water Hunter Spearfishing Charters out of Kona, HI. Not only did he travel as far as was needed to put us on the fish, he also did a great "how to blue water spearfish" training for the 2 noobs on the boat, stopped for a number of awesome and rare sights (like swimming with 1 of 8 monk seals on all the islands combined), diving w 3 different types of dolphins, tiger sharks, mahi mahi (dorado), ono (wahoo) and lots of great whale encounters. At one point, we were diving and saw 2 tiger sharks, he signaled to keep eyes on them but gave me the OK to dive down to a nearby dolphin at about 50', as I got to the bottom, I saw 2 more tiger sharks coming in, by the time I got back up to the surface, we had a total of 6 tigers circling us which was super sketchy and also kinda awesome!
We had to travel over 2 hours on the boat just to find a couple nice fish. One person missed his shot on a Wahoo and right as I jumped off the boat for my 2nd drift past the F.A.D. bouy, I saw a nice Mahi. I took a moment to posture and aim, then shot it right through the gills. Supposedly there weren't sharks known to be out in this area... however as soon as my Mahi took a 75' dive to the bottom, we heard my dive buddy yell "SHARK!" and Rob had a silk shark charging his leg about 3' away from taking a bite. He quickly and forcefully kicked the shark away. It kept attacking the 3 of us in the water while I fought the mahi to the surface. Like a dummy, in the heat of the moment I forgot to press play on my gopro. Rob is also a researcher that tags sharks so he asked me to jump back in the water with him after we landed the fish so we could get footage of him tagging the shark for species confirmation. I was eager to throw some more chum and hop back in the water with him. We ended up getting great footage that has now been submitted to the science/shark community out there.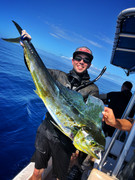 Epic memories on this trip and a truly fantastic Christmas with the family. Can't wait to go back out this year after baby Bella is born and introduce her to the warm waters of Hawaii!
Recipes for Mahi:
Cilantro Seared Sashimi
with daikon radishes, carrots, lemon, cucumber and soy sauce. Dip one side of meat chunk in sesame oil, dip into pile of minced cilantro, then sear on high heat on only that side for a few seconds. It's bomb.
Seared Mahi Steaks with spicy pineapple salsa and rice
Coat Mahi steaks in a mixture of honey, soy sauce, minced ginger, sugar then sear on both sides for about 20 seconds on each side until outside is browned. place on top of brown rice.
Dice pineapple, red onion, red bell pepper, spicy jalepeno, ginger, salt, papaya, and cilantro and add on top of fish.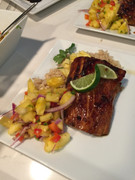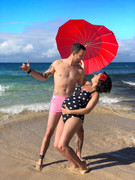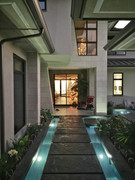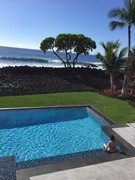 PENIS POOL